Fire Safety Training courses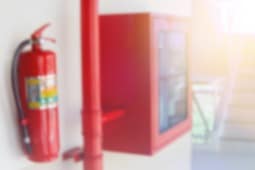 Delivered by actively serving fire fighters
From introductory to advanced level, we have a wide range of options for your specific fire safety requirements
Equip your key members of staff to assess and manage fire risks within your workplace
We provide delegates with ongoing support to ensure competence in fire safety
Fire safety is an integral component of an organisation's general safety strategy and it saves lives. Leverage the expertise of our highly qualified and deeply experienced fire fighter trainers and assessors to ensure you have a robust and comprehensive fire safety strategy in place.
Our Fire Safety trainers are:
Actively serving fire fighters and fire investigators
Qualified instructors
With life saving experience
We provide a range of fire safety at public venues and on our clients sites.
We provide customised fire safety training courses and work with our clients to identify their key issues and specific training objectives. These are included in the course development process to ensure our training is in line with our client's company culture, business requirements and training structures.